More and more people are choosing to wear discreet braces over metal braces in recent years and that's because the former are now widely available in many types and forms. Invisible braces have many benefits over regular braces and they are ideal for people who are conscious of their appearance at all times.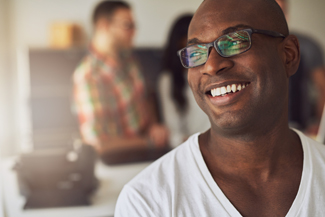 Even though it seems that invisible braces in Clapham can work for anybody, unfortunately, they are not a great dental solution for all patients. To see if you are a good candidate for invisible braces in Clapham, you should book your appointment with one of our experienced and talented dentists at Clapham South Dental Centre as soon as possible.
Determining your eligibility for invisible braces
Invisible braces are designed primarily for adults, but in some cases, they are also suited for teenagers whose teeth have grown sufficiently. Patients can choose between fixed and removable invisible braces, although technically speaking Invisalign removable aligners are not braces. Invisible braces can treat a wide variety of dental issues as long as they are not too complex – in some cases, old and trusted metal braces are a better option. Your dentist will examine your teeth carefully, conduct all the necessary tests and help you determine if invisible braces are the right treatment option for you.
What invisible braces in Clapham can't do
While invisible braces can fix a variety of dental problems and they are constantly developed to address these issues, their effectiveness is limited. Unlike traditional metal braces, invisible braces such as Invisalign do not give your dentist the same amount of control over your dental movements. Consequently, invisible braces can't really address really complicated dental issues such as twisted, rotated, badly misaligned and extensively gapped teeth, nor can they treat structural bite problems and skeletally based malocclusions that affect the jawbone.
Interested in invisible braces?
If you want to learn more about invisible braces and all that they can offer for your smile, contact us today to get started. Our experienced dentists are certified providers of invisible braces in Clapham who use the most current dental technology available to transform your smile.