Orthodontic
Your questions about
Clear Braces in Clapham
answered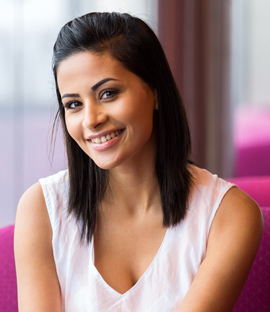 Teeth straightening technology has undergone many changes over the last few decades and gone are the days when the only option was metal braces. Clear braces are now more available and affordable than ever, either as fixed bracketed braces or removable aligners.
If you think you would be a good candidate for clear braces in Clapham, then visit Clapham South Dental Centre where we'll help you find the ideal teeth straightening solution.
What are clear braces?
As their name suggests, clear braces are almost invisible to the eye. They come in two different types – fixed and removable. Clear bracket-and-wire braces are mounted onto the teeth just like regular braces, whereas removable braces such as Invisalign are customised aligners that fit snugly over your teeth.
How do clear braces work?
Clear braces in Clapham are made for different dental needs. Whereas traditional braces pull teeth into alignment, Invisalign pushes the teeth into their correct position by creating pressure points inside the aligners. Alternatively, The Inman Aligner, which is discreet removable teeth straightening device, uses two aligner bows that gently oppose each other and guide teeth into their correct position over a specific period of time.


Are clear braces effective?
Again, if your dentist has suggested clear braces for your specific dental issue, then you will see results as your treatment progresses. Unlike metal braces that can fix complex types of tooth misalignment, clear braces can only treat mild to moderate dental issues. Severely twisted and heavily crooked teeth cannot be fixed with clear braces on their own. In some cases, the dentist may suggest a pre-treatment with regular braces, before you can switch to clear braces in Clapham.
Do clear braces hurt?
Depending on the type of clear braces you choose to have, mild discomfort may be experienced during the first few days of the treatment, or every time you switch to a new pair of aligners if you use Invisalign. This is considered normal and you should not be worried.
If discomfort is persistent and is accompanied by pain, you should consult your dentist, so that they can check that your clear braces are correctly positioned on your teeth.
To find out how we can help you achieve the smile of your dreams with invisible braces, click here