We all have a stack of blueprints in our minds. One tells us what we think a good life looks like, another tells us what we think love should feel like. The extent to which our experiences match our blueprints determines how happy and satisfied we feel with the various aspects of our life. There are two ways to use this knowledge to improve your outlook. Either you can change the world or change your blueprint. Most often, we are working on doing a little of both.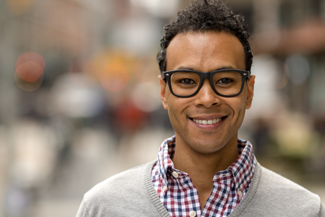 At Clapham South Dental Centre, we like to find out what your blueprint of a perfect smile looks like. If you're not 100% sure, we can also offer you guidance on what is popular and aesthetically pleasing. One of the ways we know that are treatments are improving the way people feel is that some of them increase in popularity over time. Teeth straightening with invisible braces in Clapham is one of our up and coming procedures. More and more adults ask about realigning their smile as they begin to understand what we can achieve in a short time with discreet equipment.
The potential of invisible braces in Clapham
The issues that mar a beautiful smile include gaps, crooked teeth, overcrowding and a poor bite profile. Depending on the severity of the issue, our team at Clapham South Dental Centre might be able to help using invisible braces if any of these apply to you.
Invisible braces tend to focus on the teeth that are visible when you smile. While there are often some clinical benefits to straighter teeth, the primary goal of a treatment with invisible braces is improving the appearance. The advantage to this is that treatment times are shorter than many traditional procedures. You can look forward to seeing your beautiful new look in under a year in many cases.
Visiting Clapham South Dental Centre for a consultation is the first step on the road to getting invisible braces in Clapham to improve the look of your smile. We can give you more information about how you will look and feel during your treatment and answer any questions that you might have.