Crooked or misaligned teeth can affect your confidence, your speech and even your bite.
There is an understandable worry when patients come to visit us about having their teeth straightened. Images of large, metal braces are not an appealing option for most people. Our customers often worry about how metal braces will appear and how they will impact their speech.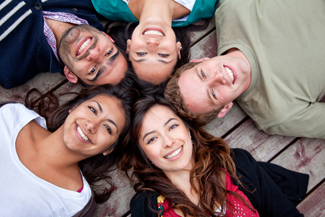 Invisalign braces
Luckily, at Aura Dental, we have the solution.
Invisalign braces are a modern alternative to traditional braces and are extremely effective at straightening teeth without any pain or inconvenience. Our team of dentists are trained in helping you with the Invisalign straightening system and can explain each step of the process to you.
Benefits of Invisalign treatment
Of course, there is the obvious benefit of undergoing Invisalign treatment, the braces are not noticeable to the naked eye and are suitably discreet. Through our years of helping our customers with this treatment option, our team has been told of the other benefits of Invisalign too.
Comfort
Metal braces are often uncomfortable for many people.
They are bulky and can rub against the inside of the mouth, which can cause sores or ulcers. Many people report that they are difficult to wear comfortably in bed, as the cheek presses against them in the night. Also, many orthodontists will need to 'tighten' your braces, which involves pulling your teeth into a different position, this can be exceedingly uncomfortable.
Invisalign braces in Clapham are thinner, can be removed and gently nudge your teeth into the desired position. When you begin treatment, you will be given different sets of braces for different stages of your treatment, so your teeth will never be pulled or forced into an unnatural position suddenly, making the overall experience much more pleasant.
Safety
Having metal wire in your mouth has obvious safety issues.
Metal, when worn down, can become sharp and cause puncture wounds or scratches on the inside of your mouth. This in turn can lead to infections, not something that anyone wants to go through.
Invisalign braces in Clapham are made of a clear, flexible and smooth material, meaning there is no protruding metal or possibility of it wearing down.
Predictability
When undergoing brace-based treatments, it used to be difficult to accurately predict how your teeth would look at the end of the process. This could cause uncertainty and worry about how the process would work.
When you undergo Invisalign treatment, our dentists will use scans, 3D based computer technology and imaging systems to outline to you the different stages of the process and to predict accurately how the position of your teeth will change throughout.
This predictability creates reassurance and many of our customers report feeling at ease when they can see that their teeth are changing to fit the 3D models.
These are just some of the reasons to choose Invisalign when choosing to have your teeth straightened.
Call our team today to see if Invisalign treatment is for you!