At Clapham South Dental we hold the needs and requirements of each individual patient as our highest priority. Rather than adopting a one-size-fits-all approach that is favoured by numerous other practices across the country, we believe that each set of teeth we deal with is as unique as those bearing them, and as such, we offer a bespoke, tailored service that fits the requirements of the individual, not the many. As an NHS and private dental practitioners, we offer a wide array of treatments across a number of different methodologies that fit the needs of all our patients – be it cosmetically orientated, or structurally centred, at Clapham South Dental we will provide the necessary care. Patients here have the ability to choose the gender of their preferred practitioner, and treatment is only carried out once the patient feels ready, and by a dentist of their choosing with whom they share a good rapport..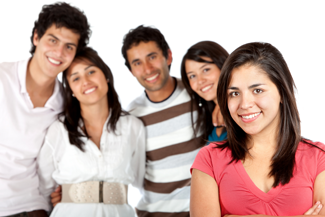 Hidden wonders
Discreet orthodontic alignment procedures such as Invisalign in Clapham are particularly popular here at Clapham South Dental – favoured largely by teenagers and young adults over conventional methods of orthodontic alignment such as typical fused 'train-track' braces. The process of Invisalign in Clapham consists of a mouthguard being constructed of the patient's teeth from a patented SmartTrack plastic – chosen for its durable, yet malleable nature. Once a mould has been created, a retainer is made, and worn by the patient for a sustained period of time – which differs depending on the extent of treatment, but typically lasts about twelve months. During this time, the retainer gradually aligns the patient's teeth to the specifications that were established with a dental practitioner they trust wholeheartedly, before treatment began. This method of discreet orthodontics has grown in popularity in recent years as, when the mouthpiece is worn, it is practically undetectable from the naked eye – and as such allows for patients to undergo the alignment process without attracting any unwanted attention. Another reason for the increase in popularity of Invisalign in Clapham over conventional orthodontic treatments is that the retainer is removable, and as such can be worn at a time that is convenient to the patient – such as when at home or asleep, unlike typical fused braces.
Another form of discreet orthodontics we offer at Clapham South Dental is the installation of Invisible braces. These are similar to conventional braces, in that they are fused to the front of a patient's teeth, however they differ in that they are constructed from a see-through plastic alloy, which is colour matched to the patient's teeth – and as such are far less visible than typical titanium 'train-tracks'. Lingual braces are another form of discreet orthodontics on offer here. These are again similar to conventional braces, however they are fused to the backs of a patient's teeth – and thus are virtually undetectable from the front. Treatments of this sort can vastly boost a patient's self-esteem and confidence as they allow for them to undertake essential dental realignment, without affecting their outward appearance.
Restoring the vitality of youth
One service is offered here at Clapham South Dental which is not a dental treatment – but rather a method of facial rejuvenation, is the application of Botox injections. Botox utilises a botulinum toxin which is directly administered into a patient's face, reducing signs of ageing. This is done by freezing the nerve endings which cause expression lines and wrinkles, resulting in a youthful vitality being restored. Botox treatment is only carried out by trained professionals, and after treatment it only takes around fifteen minutes for patients to see the effects take place. Depending on the level of treatment, Botox injections can last from around 6 to 12 months and  vastly boost a patient's self-esteem, restoring youthful vitality to the skin.