Discover more about
Invisalign in Clapham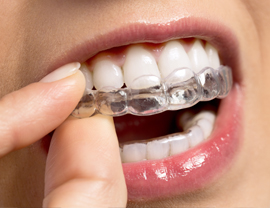 Most people are familiar with Invisalign, but are unaware of its history. Manufactured and provided by Align Technology, Invisalign was introduced in the late 1990s and has since become very popular with teenagers and adults who wish to straighten their teeth inconspicuously.
Invisalign treatment involves wearing a series of removable, transparent, plastic aligners, which are customised to each patient's smile. The material of which the aligners are created is made exclusively for Invisalign, providing comfort and consistent teeth straightening.
Invisalign in Clapham is ideal for patients with moderate alignment issues or bite problems such as overbites, underbites and crossbites. At Clapham South Dental Centre, you can choose from different types of Invisalign, which are designed to target a range of dental problems. For instance, Invisalign Lite is ideal for less complex alignment issues, whereas Invisalign Teen comes with special features for teenagers.
We would be happy to discuss your options and help you decide the best treatment based on your specific dental needs and lifestyle.
How does Invisalign work?
Invisalign moves teeth steadily into their correct position with the help of a series of invisible, 3D aligners that should be replaced every 1-2 weeks as directed by your dentist. Unlike regular braces, Invisalign aligners push rather than pull the teeth into position, using pressure points inside the aligners to move the teeth forward.
How long does Invisalign treatment take?
Each patient is unique and for this reason, treatment times are different. In general, most people enjoy a straighter smile within 12-18 months on average with Invisalign in Clapham.
Will Invisalign fit my lifestyle?
With Invisalign, there is no need to change a thing in your daily routine. The aligners are virtually invisible and can be removed whether you wish to eat or brush your teeth through the day. Moreover, Invisalign appointments are not lengthy and can be coordinated with your schedule.
What patients say about Invisalign
Clapham South Dental Centre

From the very beginning I felt that I was in good hands; any questions or concerns I had about the Invisalign treatment were always thoroughly addressed by Dr Hazell, and a start date was chosen which worked best with personal commitments.

My plan progressed as outlined at the start, and the app provided a great way for seeing the changes over time. The Invisalign trays were clear and very discrete. Moreover, because a few sets are provided ahead of time, this also added to the convenience of the programme which took only 7 months in my case.

I am still beyond amazed by Dr. Hazell's work and the 100% (it feels that way!) improvement in my smile.

To find out how we can help you achieve the smile of your dreams with Invisalign, click here