Our Team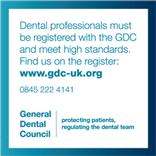 All our dentists adhere to the rules governing the profession under strict guidance from the General Dental Council (GDC) "Standards for Dental Professionals".
Dentists
Dr. Shahram Mazaheri
BDS Lond 1999
GDC No. 76373
Dr. Mazaheri qualified from St Bartholomew's and Royal London School of Medicine and Dentistry in 1999. He then went on to complete the Masters of Clinical Dentistry (MClinDent) in Prosthodontics with Merits from the prestigious King's College London. He has a special interest in implants, cosmetic and Preventative dentistry. Having taken the opportunity to join the Clapham South Dental Centre, he brings with him his gentle caring manner and 13 years of experience in practicing dentistry, promoting treatments that safeguard long term dental and general health.
Dr. Shenilee Hazell
BDS Brist 2007
GDC No. 114248
Dr Shenilee Hazell graduated from the University of Bristol in 2007 and settled in the City of London where she has been successfully practising dentistry for over 10 years, providing aesthetic and cosmetic dentistry.
Over the years she has undergone extensive training in the UK and Europe in restorative dentistry, aligning teeth using Invisalign and other short term cosmetic alignment systems and providing patients with the latest effective tooth whitening treatments.
With her exceptional talent for creating beautiful smiles, Shenilee commits herself to using state of the art materials and the very best techniques to ensure patient satisfaction.
She has recently been credited as a GOLD Level Invisalign Provider in the UK.
Her friendly gentle manner means that she is popular with nervous patients, especially those who suffer from dental phobia and she has proved very adept in converting phobic patients into regular attenders.
She is committed to ongoing post-graduate education, dedicating much of her time to attending courses worldwide to develop and advance her cosmetic dental skills, training under some of the foremost opinion leaders in the dental profession.
Shenilee has a great passion for dentistry and strongly believes that a minimal invasive approach coupled with the latest techniques can produce highly aesthetic, natural and long-lasting results.
She is a member if the British Dental Association, a full member of the British Academy of Cosmetic Dentistry and is also a member of the British Dental Bleaching Society.
Away from dentistry, Shenilee has a passion for cooking, photography and is a keen fitness fanatic.
Dr. Arun Jeevaraj
BDS Annamalai 1997 Statutory Exam 2007
GDC No. 118728
Dr. Jeevaraj received his MDS from Meenakshi Ammal Dental College in 2004 and was awarded his IQE in 2007 from the GDC. Dr. Jeevaraj has a special interest in conservative dentistry and endodontics.
Dr. Matthew Bradbury
BDS London 2012
GDC No. 230177
Dr. Rajiv Patel
BDS Lond 2011
GDC No. 211220
Coming soon...
Dr. Ali Aussia
BDS Lpool 2004
GDC No. 83186
Coming soon...
Dr. Rachael Ibbotson
BChD Leeds 2013
GDC No. 244785
Dr Ibbotson graduated from Leeds Dental Institute in 2013 and since qualifying has taken a particular interest in non-invasive and conservative dentistry. She has a caring and preventative approach and is passionate about providing the very best in quality and service.
Alongside general dentistry she also provides short term orthodontics using Invisalign and Six Month Smiles.
Dr. Julia Dumic
D STOM Lithuania 2012
GDC No. 232841
After Dr Dumic qualified with a Masters Degree in Dentistry (DDS) in 2012 she continued to take interest in her professional and personal development with her work being published in Baltic Dental and Maxillofacial Journal. She completed training in teeth whitening under the instruction of Dr Wyman Chan and is undertaking extensive training in Restorative Dentistry (MSc) at the prestigious Eastman Dental Institute (London). She is also a current member of British Dental Association.
Dr Dumic's interests lie in aesthetic and restorative dentistry with special interests in the management of tooth wear, especially early diagnosis and intervention.
With a highly committed approach to a preventative technique, her aim is to help patients attain and retain excellent dental health removing the need for repeat unnecessary visits.
Her welcoming nature, desire for perfection and ability to create a relaxed atmosphere all contribute to a positive patient experience at Clapham South Dental.
Dr. John Krezel
BChD Leeds 2011
GDC No. 211139
Coming soon...
Dr. Mohsin Ghor
BDS Queen Mary University of London 2014
GDC No. 252351
Dr. Mohsin qualified from Barts and the London School of Medicine and Dentistry in 2014. He went on to complete his Foundation Dentistry year in the London Deanery.
Mohsin is a firm believer in providing evidence-based, preventative and pain free dentistry. He has a great desire to continually develop both his clinical knowledge and skill through post graduate training whilst also thriving to become a key figure in the dental field. Since graduating, Mohsin has completed the MJDF part 1 examination with the intention of becoming a member of the Royal College of Surgeons England.
He has recently joined a team of colleagues to set up the first London Deanery Alumni Society to help dental professionals network whilst gaining advice and support they need to pursue a successful career in dentistry.
Mohsin is passionate in providing high quality dentistry with a growing interest in orthodontics including straightening and whitening teeth with the use of Invisalign and Enlighten. He also enjoys the cosmetic aspect of dentistry where he has developed his skills having been on a multitude of post graduate courses.
Outside of dentistry, Mohsin enjoys playing sport, travelling and is a passionate linguist speaking both French and Japanese since a young age.
Dr. Shihab Hussein
BDS London 2013
GDC No. 245073
Coming soon...
Orthodontist
Dr. Leone Giacosa
DDS, MOrth 1997
GDC No. 79022
Dr Giacosa qualified with honours in1997 and attained his Orthodontic Specialisation 3 years later again with honours. He is on the Specialist list in Orthodontics of the General Dental Council. Dr Giacosa has been published in several Orthodontic publications and has lectured both nationally and internationally. His special interest in multidisciplinary approach means he works closely with other specialists to solve the most complicated treatment plans successfully. In addition, he has extensive training in Temporo Mandibular Joint (TMJ) dysfunction and its treatment. Outside of dentistry, Dr Giacosa is a keen tennis player and he is passionate about theatre and classical music. He plays the piano and he is studying the violin.
Hygienists
Mayra Crean

Dip Dent Hygiene Leeds 2006, Dip Dent Therapist Leeds 2006
GDC No. 106323
Coming soon...
Elena Commins Qual - National Certificate Dublin 2005
Registered under s36C of the Dentists Act 1984 2013
GDC No. 170007
Coming soon...
Waleed Norani
Dip Dental Hygiene & Therapy 2010
GDC No. 192871
Waleed, winner of the Highly Commended Dental Hygienist of the year 2016. The award recognised his outstanding contribution to the dental profession and exceptional patient care. Waleed is renowned for providing a kind, caring service which is gentle and pain free.
Waleed graduated from Kings College London in 2010. He is accredited by the Royal College of Surgeons and is an active member of the British Society of Dental Hygiene. Having obtained a dual qualification Waleed is able to work both as a Dental Hygienist and a Dental Therapist.
As a Dental Therapist, he has specialist knowledge of working with patients who suffer from dental anxiety, are physically disabled and young children. Waleed also focuses with a passion on cosmetic fillings and teeth whitening as he is a registered Philips Zoom whitening system user.
Waleed holds a Postgraduate Diploma in Dental Education from University of Bedfordshire. Which has allowed him to lecture on behalf of NHS England.
Waleed's has a Diploma in Cognitive Hypnotherapy and Neuro Linguist Programming (NLP) accredited by The National Council of Hypnotherapy (NCH). He is able to provide therapy to patients experiencing dental anxiety and phobias.
Waleed has obtained a UK Coaching Certificate (UKCC) accredited by Badminton England. In his spare time he offers one to one badminton coaching and helps run a youth badminton club. He is also a keen badminton player himself and represents his local London league.
Kaleem Iqbal
BSc Dental Hygiene and Dental Therapy Lpool 2014
GDC No. 254813
Coming soon...
Afroza Begum
Dip Dent Hygiene & Therapy Eastman Dental Institute Royal College of Surgeons 2008
GDC No. 171438
Coming soon...